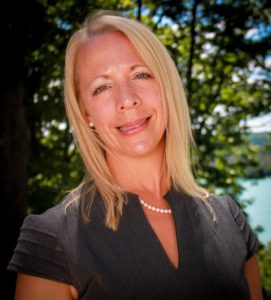 Erica Marshall has joined our Real Estate One Traverse City – Randolph Office after a 20 year career as a high school and college marketing instructor. She holds a Masters Degree in adult education, secondary education, and instructional technology. Marshall, originally from Traverse City, recently returned to the area after residing in San Antonio, Texas. She has been married to her husband Ben for the past 20 years. They have two daughters, 14 and 12 who are active with the TBAYS soccer organization and the NorthStorm soccer club. Marshall may be reached through her real estate blog Traverse City Real Estate or by phone 231-242-3576.
Getting To Know Realtor Erica Marshall: 
Erica on becoming a Realtor: I joined Real Estate One Traverse City – Randolph in late July of this year after living in San Antonio. Having grown up in Traverse City, like others who left, I beckoned the call to return. Since there were not any immediate teaching positions available in my field, I decided to put my marketing knowledge to work in the area of real estate sales. As I looked at various opportunities in the area, real estate was the most attractive to me. In reaching that decision I have to give credit to my amazing mentor  Lynne Moon who was working with my family on our relocation to Traverse City.  When I decided to pursue real estate, I asked if she would mentor me and the rest is history!
On why she chose Real Estate One: Again after working with Lynne Moon on relocating back to Traverse City it was obvious to me that I wanted to be part of the same company. Lynne also was very passionate in recommending Real Estate One to me. My experience in just a few months with Real Estate One has certainly exceeded my expectations.
On her real estate focus: My current focus is on both leasing commercial space and working with residential customers. I will be able to use my educational and business background in marketing to better serve my clients.  There is a big educational process when purchasing real estate whether you are a first time home buyer or buying for the fifth time. Marketing real estate has changed as marketing concepts in general have changed with all the emerging social media platforms. This is an advantage I will bring to my clients, the understanding of this constantly evolving marketing process and how best to utilize it for their benefit. 
On being involved in the community: Having just moved backed here earlier this summer I felt the immediate call to get involved in this community. It's one of the reasons why it's such a great place to live, the people here are constantly giving and helping each other and you want to participate in that environment.  I am currently a member of TC NewTech, Traverse City Chamber, and am exploring some other possibilities to use my talents to assist other organizations in the area.  
On her background and returning to live in northern Michigan: I taught Marketing for over 20 years at the high school and collegiate level. I hold a master's degree in adult education, secondary education, and instructional technology. I served on various advisory boards for the International Association of Marketing Students known as DECA.  I also served on the Board of Directors for Texas DECA, serving two terms as Chairman. I am an avid gardener, cook, and part-time half marathon runner.  My family means the world to me. As for moving back to Traverse City it was really Everything! that brought me back. As a highly visual person I am immersed in a perpetual state of bliss by the natural beauty of this amazing region. Of course it has been really exciting for me to watch my husband Ben, a lifelong Texan, settle into the "northern" lifestyle!
Welcome Erica Marshall to our Real Estate One Family of Companies!
Erica Marshall Searching Spaces To Find Your Home
To learn more about Erica or to contact her about your next real estate transaction visit her Blog.