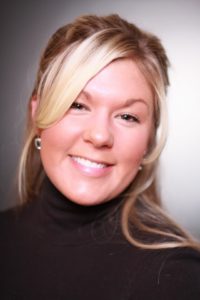 Real Estate One-Northern MI Region along with the Traverse Area Association of REALTORS® are pleased to announce that Michelle Maidens of the Real Estate One – Cadillac office was elected to the Traverse Area Association of REALTORS® (TAAR) Board of Directors during the 2016 Annual Membership Meeting on October 28.
Michelle Maidens has been a Realtor® for Real Estate One since 2006. During her first year as an agent Maidens had the largest number of closings for the Real Estate One – Traverse City – Front Street office. Maidens received the Real Estate One Rookie of the Year award and has earned numerous company sales awards during her 10 year real estate career. In 2014 Maidens assisted in the opening and establishment of the Real Estate One – Cadillac Office.
On being elected by her fellow Realtors to the TAAR Board:
"My primary goal is to get more agents involved in our association," said Maidens.  "I feel there has always been a gap between the Grand Traverse region and brokers in the outlying areas, I want to fill that gap."
Maidens previous leadership roles have included serving as board secretary for The Women's Council of Realtors and Team Leader for the Real Estate One – Cadillac office. She is also active with the Cadillac Area Chamber of Commerce.
Getting to Know Michelle Maidens:  
Michelle on her real estate career: I have been a Realtor for 10 years and all of them with Real Estate One. My career started after reading an article about Real Estate and I wanted to give it a try. I started out at the Real Estate One – Traverse City – Front Street office and in September of 2014 helped to open our Cadillac office. While I enjoy all aspects of real estate I focus a lot on helping the first-time buyer, foreclosure/HUD home, relocation and vacant land.
On why Real Estate One and what she loves most about real estate:  We are called the Real Estate One Family of Companies  and I know it sounds cliche but there is a big emphasizes "family." We really do feel like a family here. What I love about real estate is the feeling of accomplishment.  When you walk away from the closing table and to know that you just helped someone accomplish one of the most important and rewarding things in life and that is owning a home.
On life outside of real estate: I love living in northern Michigan and embracing what the four seasons have to offer. I love spontaneous events and trips with my family, I have 2 sons, Waylon who is 10 months and Charlie who is 6. Life as a Realtor can be hectic but family dinners and our family football Sundays are a must in our home.
On her new role as a board member with the Traverse Area Association of Realtors: I am real excited for this opportunity. When I decided to run it was to give a voice to the Realtors who work in the outlying areas. I felt that at times we are overlooked because we are not in Traverse City. So I hope my presence on the board will spark more involvement in TAAR from Realtors in these outer areas. I am looking forward to working with the other board members, to share my ideas and opinions on growing our organization and serving the real estate market.
Michelle Maidens
Office: 231-468-3441
Email: Michelle@MichelleCanSell.com
Your Hometown REALTOR